2018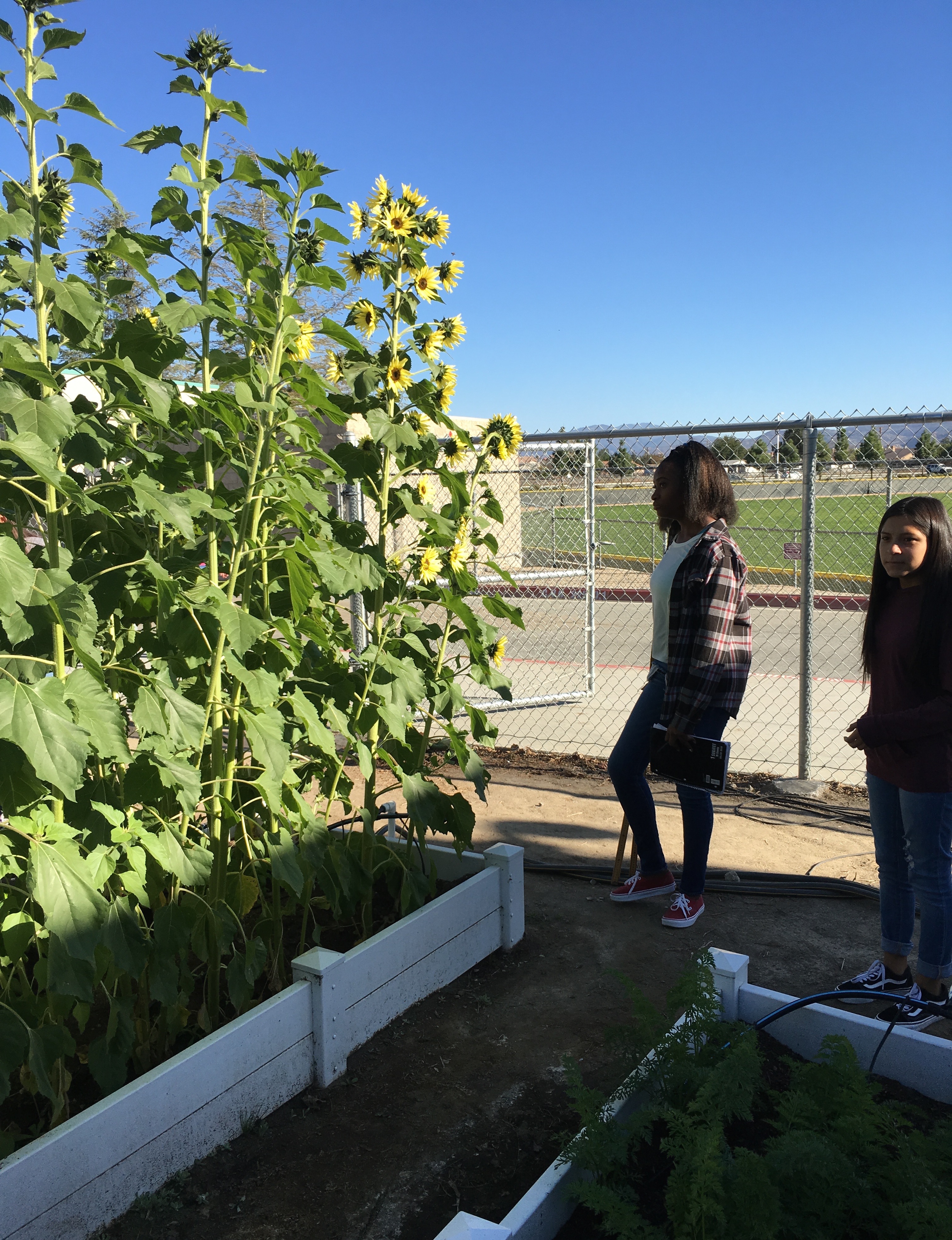 I welcome you with enthusiasm to Tahquitz High School.
I am Ms. Miller and I will be teaching Honors Biology (PLTW) and Botany. I am excited to get to know all of you and share our great school and garden with you.
I have been a teacher for 24 years, (13 in middle school science and 11 high school), before that I was an Instructional Aide for 8 years while my children were growing up and before that a Fashion Designer/ Patternmaker for 7 years.
My passion for learning started we I was a child. I graduated from The Fashion Institute of Design and Merchandising, got an AA from Riverside City College, went on with a full scholarship to Cal Poly Pomona from which I graduated with a B.A. I also earned my teaching credential from California Polytechnic University, Pomona. In 2002 I earned my Masters Degree in Education from California State University, San Bernardino.
This is a picture of the students' sunflowers that grew taller than the girls were.

During the summer I love to travel, see the world and enjoy my grandchildren. I have traveled to Africa (Kenya, Tanzania, Egypt, Botswana, Zimbabwe, South Africa, Namibia, Swaziland), Australia, New Zealand, Europe (France, Italy, Switzerland, Amsterdam, England, Germany, Canada, Costa Rica, Israel, Alaska, Hawaii and many other states. This summer I traveled to Israel and Egypt.
This past summer I was given a wonderful opportunity to work with Project Lead the Way Scientists and teachers. I also attended lectures at The Huntington Botanical Gardens.

The GARDEN: In past years the Botany students have used the garden to plan and carry out their experiments. There is also a compost bin in the garden area to compost our plant and food scraps in. We have excellent materials to use in the garden thanks to Tahquitz High School, Donor's Choose, Ripple and UPS.

My goal this year is to help you become the best person you can be. Our classroom is an environment where everyone wants to learn. We use technology much of the time but I will also try to get you outside to experience the environment you live in. In my classes students are active learners that help each other in the learning process and learn to think critically about the world we live in. Students at Tahquitz are respectful to each other and go out of there way to help each other in their studies and in life. Students in my classes can expect to work hard but be rewarded with a job well done.
I can be reached at the following e-mail address or the school e-mail address. science_miller@mac.com cmiller1@hemetusd.k12.ca.us

http://www.donorschoose.org/science.miller